The Ruff Life of Olde Towne Portsmouth: A Dog Friendly Guide
Date:
September 1, 2018
By:
Holly Burgess
Category:
Uncategorized
FALL IS COMING! One thing this means in our household is that the pavement is about to cool off enough to be comfy for 8 little dog paws. Our dog Spring, a beagle/boxer mix is now about a year and a half old and her energy levels have no signs of decreasing. We also just adopted Autumn, a year old boxer mix from Portsmouth Humane Society. We've been scouting out the best spots to take the girls to burn off some energy as the weather begins to cool down. This list is a combination of places we have loved going over the years as well as some suggestions made by some friends on social media. Did I miss your favorite spot? Let me know in the comments!
Where to Eat
Olde Towne has plenty of delicious restaurants with dog friendly patios. This is certainly not a comprehensive list but here are a few we've enjoyed with pups in tow. Please drop something at some point during your meal. Your pooch will thank you.
1. Humboldt Steel Corporation
Humboldt Steel's patio was a recent addition to this eatery and we've heard some great reviews from trusted dogs of Olde Towne. The restaurant offers pizza, sandwiches, salads, and a large craft beer selection.
Insider Tip:  We love the spinach wheels on the appetizer menu!
Pictured above: Spring at Humboldt Steel Corporation during 4 Arts Festival in 2017.
2. Gosport Tavern
We used to live in Bon Square, which is a block of houses right behind Gosport Tavern. To say we ate at Gosport Tavern a lot would be an understatement. Riley Paige (our first dog – rest in peace) and Spring were always treated like important dinner guests when they joined us on the patio.
Insider Tip:  Try the whole menu. And the brunch menu. And the weekday lunches.
3. Fish & Slips
It was a warm December day. We'd been on a puppy play date with some friends to go see Santa! We stopped at Fish & Slips for some food and drinks. Our dog Spring may have knocked beers all over everyone at our table. All we remember is the patient server and great food!
Insider Tip:  To get to the patio with your pup, go up the staircase on the right side before you get to the main entrance.
Pictured Above: Holden's face says it all. I'm going to Fish & Slips with my friend Spring! Thanks to Holden's parents Chuck Beeler & Matt Glaubke for this photo.
4. 619 Cantina
Addictive tacos anyone? 619 Cantina offers customized tacos, burritos, and sides. The white sauce is spicy but good and I love their guacamole. We've always met friendly dogs and people on the patio there!
Insider Tip:  Ask for lime wedges to squeeze on your tacos.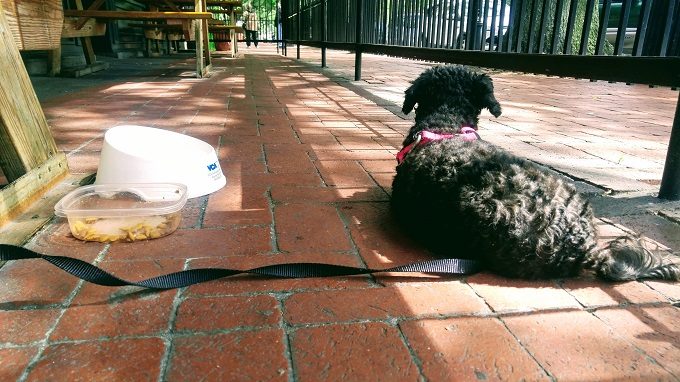 5. Longboards
Longboards is a casual, surf/skate inspired restaurant known for being the local's hangout. The menu includes items like burgers, sandwiches, wings, and Caribbean Black Bean Chili with Sausage.
Insider Tip:  The picnic tables on the patio are one of the best spots to people watch!
Pictured above: Truffles enjoying life at Longboards. Shae & Stephen Pepper (Truffles' parents) used to live in Portsmouth but now travel full time and blog about their adventures. Check out their review of Longboards here:  http://nohomejustroam.com/review-longboards-portsmouth-va/
Where to Stroll & Sniff
Now that everyone has had a bite to eat, where can you take your pup for a nice cruise?
1. The Farmers Market
Saturday morning. Fresh vegetables, meats, fruits, etc. People to meet. Dogs to see. I don't think it gets much better than a morning at the Olde Towne Portsmouth Farmers Market.
Insider Tip:  MoMac Brewing will be serving delicious Oktoberfest themed beers at the market the last Saturday of September.
2. The High Street Corridor
Our dogs have always loved cruising up and down High Street. There are always people to meet, dogs to sniff, and delicious food smells wafting in the air. The best thing about Olde Towne is that after a few walks up and down High Street, you'll start seeing familiar faces who want to say hello.
Insider Tip:  On most days, a magical breeze will travel right down High Street from the Elizabeth River at High Street Landing.
Pictured above: Our first dog Riley Paige cruising along High Street several years ago.
3. The Parks
Olde Towne has a variety of beautiful parks for your pooch. Check out Middle Street, North Street, London Street, and the grassy area off of Crawford Street.
Insider Tip:  Keep your dogs on leash as the parks are not fenced in. The parks still offer beautiful spots to relax with your pup and meet friendly people.
4. The Seawall
Humans aren't the only ones who love a great view. Take a stroll on the water and enjoy looking at Norfolk's beautiful skyline.
Insider Tip:  This stroll pairs perfectly with dinner at Fish & Slips down at the marina or a visit to Legend Brewing Depot.
Pictured above: Dottie Jane checking out the view! Thanks to Courtney Culpepper (Dottie Jane's mom) for this photo.
Where to Play
1. The Festivals
Our dogs have gotten out to enjoy many festivals and events in Olde Towne over the years. Some of our favorites have included 4 Arts Festival, Seawall Art Show, and The Olde Towne Holiday Music Festival.
Pictured above: Riley Paige enjoying the entertainment at Gosport Arts Festival in 2012.
2. The Annual Memorial Day Parade
Each year, Olde Towne holds a wonderful Memorial Day Parade. The parade is great fun for adults, kids, and dogs!
Pictured above: Pepper enjoying the parade with family! Thanks to Melanie and Louie Perone (Pepper's parents) for this photo.